Do I need a new loft hatch?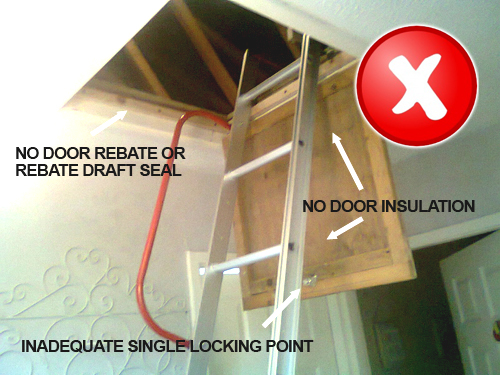 You have updated your insulation level to the government recommended 270mm, so what about your badly sealed and inefficient out dated loft hatch?
The most important part of retaining heat in your home is to heavily insulate the ceiling area at the top of your landing and update the old loft hatch to a more efficient modern building regulation spec hatch.
Your upstairs landing is where most of the downstairs heat ends up and a poor weak loft hatch will just let it all through costing you £100's over the years.
There is just no point having a heavily insulated loft and leaving in the old inefficient loft hatch.
Reverse hinging an old wood loft hatch is no longer seen as good practice as it does not comply with air leakage requirements of Part L of the Building Regulations.
Also your loft hatch needs to be a good size to allow items, a ladder and yourself to pass through.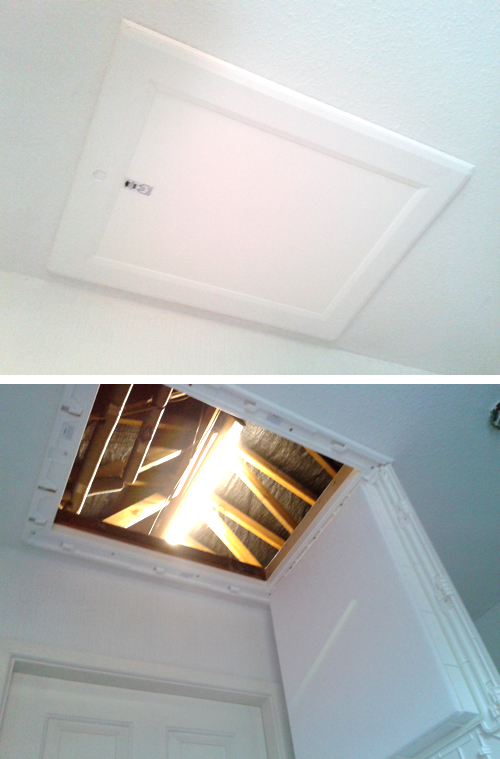 We can replace, make larger, move and improve your loft access door (All prices below are including fitting).
The revolutionary design of the multi-point catch mechanism means that this door (picture here) can maintain a more effective draught seal around the entire accessible opening, helping to meet the air leakage requirements of Part L of the building regulations and preventing the problem of moist warm air entering.
This loft door has been independently tested by the BRE to BS EN 13141-1:2004, and easily surpasses the requirements for air leakage which are outlined in the current building standards, certification is available.
The door is unlocked by hand by sliding to open the catch mechanism. This door can also be used in conjunction with our loft ladders.

One for One straight swap no alterations required from £90
Have your existing loft opening made bigger from only £120
Build a new hatch in a new area or room from just £190
Extra long wood hatch with wide tread steps from only £350


Do you install extra long timber loft hatch and ladders? In some cases we come across customers who need a larger loft opening or may not have the space for a aluminum floor mounted ladder to stow away, so the alternative is to install a larger more convenient loft ladder complete with framed hatch.
We can install a timber fold away ladder with frame and sealed door and we believe this is the complete loft-access solution, with an FSC-certified timber loft ladder Measuring (H)1150mm x (W)545mm with spring-assisted stowage and wide, sturdy treads for comfortable climbing.
This loft ladder is stored within the trapdoor so no loft floor space is used.
Suitable for heights up to 2.81m (9'2") (3.51m with extension)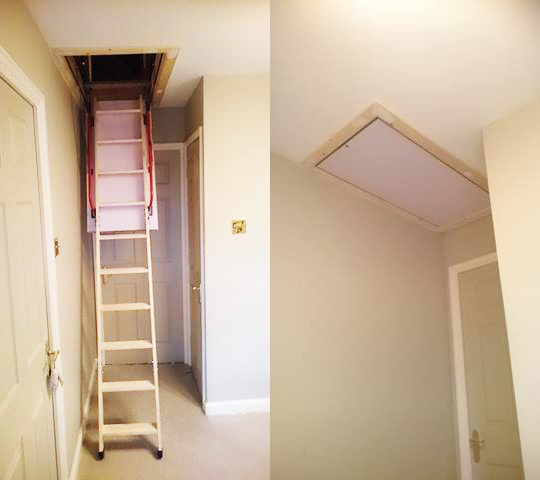 A complete loft access solution including ladder Loft frame surround 26mm insulated trapdoor and spring assisted stowage.
Uses no further loft floor space - ladder stores neatly within trap door
Wide and deep timber treads for comfort when climbing
Max Floor to Ceiling Height 2.81mtr (9'2") 3.51m with extension
Load Capacity 150kg (23.6 Stone)
Tread Material Wood
Door Material Timber with Insulation
Frame Material Wood
Architrave Included? Yes
Certifications EN14976